Stacking Rack With Wheels
Product Detail
Product Tags
Where to Buy stacking rack with wheels?
Of course From Liyuan factory.
Stacking rack with wheels is a type of common stackable racking bottom connect with wheels, which is convenient for moving. Like common stacking racks, it can realize stacking, detaching and folding functions. Wheels are installed at the bottom to realize overall movement, which is very convenient to operate. According to the different needs of customers, universal wheels or directional wheels can be added.
The length, width and height of the rack can be customized according to the clients' storage requirement, as well as the loading capacity, and the number of stacking levels. In addition, forklift slot can be added, which can be moved or unloaded by forklift as you like.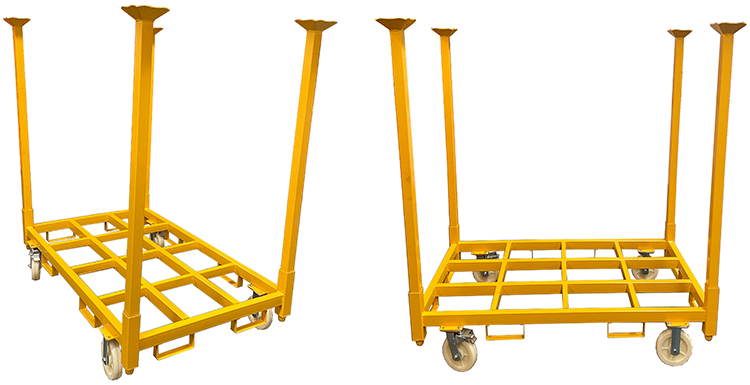 1.Size and loading capacity can be customized as customers' requirement
2.Both powder coated and galvanized surface treatment are available, which can prevent the rack from rust
3. Can be stacked on each other like shelf
4. Workers can push the stacking rack by hand, easy to operate
5.Stacking base can add the wire mesh or steel plate, to prevent the products falling down
6.Forklift hole added, can be used together with forklift
7. Color can be customized
8. Strong loading capacity with Q235B material
9.Durable, strong and stable

1.The stacking rack with wheels can be used in the food industry, just need to keep small aisle which save sapce, heavy load capacity, and easy to use.
2. It can be used in the tire industry, and various stacking racks can be designed according to the size, weight and shape of the tire.
3. It can be used in the industry of fabric rolls, usually the rolls are relatively long and heavier, and the stacking rack can meet its storage requirements. Side frames can be added to protect the rolls falling down.
4. It also can be used in cold storage. In the cold room, the surface treatment is usually hot-dip galvanized, which has strong anti-corrosion ability
---
Previous:
Teardrop Pallet Racking
Next:
Metal Pallet Box
---
Write your message here and send it to us