Metal Pallet Box
Product Detail
Product Tags
Where to Buy Metal Pallet Box?
Of course From Liyuan factory.
Metal pallet box can be divided into foldable storage cage and welded storage cage. The side of the cages can made of wire mesh or steel plate.It can be used to store small and heavy parts accessories.
Foldable steel box pallet
It can be foldable, and does not take space during the transportation, convenient to use, can realize the stacking function.Surface treatment can be powder coated or galvanized. Size can be customized, regular length, width and height from 800 to 1200mm. Of course special size are also available. Loading capacity around 1T per cages, special storage requirements are also available.
1.One side can do half-open door, convenient for take or put products
2.Bottom welded with stacking bowl, can realize stacking function, regular can stack 3-5 levels
3.Good load capacity due to the Q235B steel raw material
4.It can be used together with pallet racking, bottom welded with tube, seems likes steel pallets, can put on the beams rack
5.Powder coated surface treatment,can protect the storage cages from rust
6.Beautiful appearance, easy to use
7. Durable, strong and stable
Welded storage cages have various structures, which are convenient and flexible to use. Usually, the cages can be stacked on each other, and also can be used with forklifts to flow in the area. It is convenient for storage and does not occupy aisles. The cages are widely used in the storage of raw materials, semi-finished products and finished products.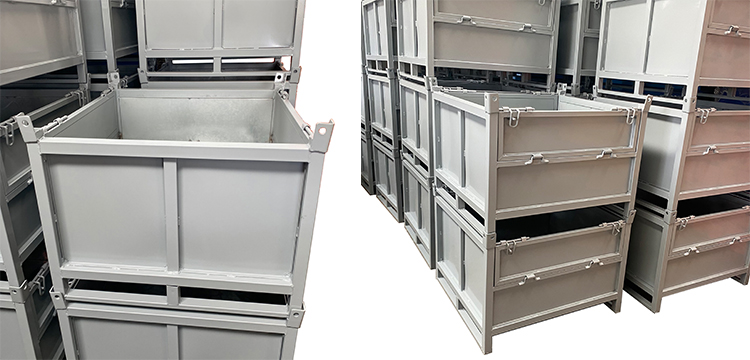 1. Can be stacked on each other
2.Can put it on the rack, used together with racking system
3.Welded structure, strong weight capacity
4. Suitable to store tools, auto parts and so on
5.All of the specification can be customized
6.Do not need installation, convenient for using
---
Previous:
Stacking Rack With Wheels
Next:
---
Write your message here and send it to us