Last week, our factory completed the production of steel stackable racks. A customer from Pakistan ordered these racks from our company for stacking goods during the production process. The size of the stackable rack is L1829*D1524*H1829mm, with a layer load of 1500KG. Due to the big size and the heavy load-bearing capacity. The pipe material of the base we select 60*40. The conventional material is 50*50. The load-bearing strength of 60*40 will be better.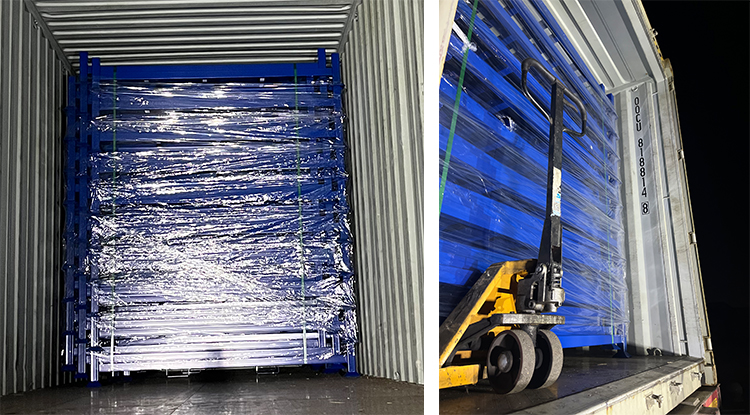 When loading the 50*50 tube into the container, we can put one more rack in the height direction.Therefore, after considering the factors of container loading and sea freight fee, if the weight capacity is sufficient, we will choose 50*50 square tubes for our customers. For this order, after finished producing, when packaging them, 29pcs stackable racks were placed in the height direction, and the posts were directly inserted into the gap between the two bases, so the space can be fully utilized and can loading more.
The inner length dimension is 1829mm, so the outer size of the entire stackable rack is about 2 meters. Coupled with the staggered placement, one package in the length direction can fit into the container well. The overall color of the steel stackable rack is blue, which looks very bright and beautiful. There is a important point is that all of our products are adopt outdoor powder. This is our advantage, although the cost is high, the anti-corrosion ability of the products will be stronger and the use effect will be better.
We have a variety of stackable racks for customers to choose, including folding ones and simple base with four posts type. Most overseas customers prefer this simple type stackable racks because folding stackable racks take up more space, and usually one container can loading less quantity. Any new inquiry or requirement, kindly email us at contact@lyracks.com
---
Post time: Nov-20-2023