Our company specializes in the production of steel pallets, and will provide customers with a variety of customized pallets, including conventional two-legged steel pallets, three-legged steel pallets, powder coated steel pallets, galvanized steel pallets, single-sided steel pallets, double-sided steel pallets. And also have the round corner steel pallets suitable for grain storage, which can meet various storage or transportation needs of customers. As a professional steel pallet manufacturer, we have a certain price advantage. If you have a distribution demand, kindly let us know. Of course, if you have a demand for use, also can kindly contact us, we have a professional design team. We can recommend suitable steel pallets and design schemes according to customers' storage requirements, and plan warehouses for you.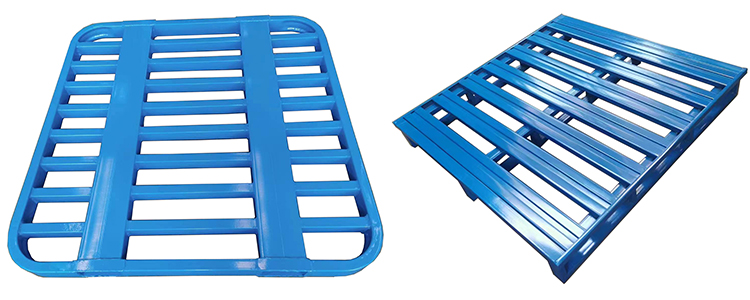 Steel pallets are very flexible to use. They can be used with various racking. They can be placed on the racks, can also be used as a transshipment function, or can be used alone. They can be placed on the ground to store goods directly.
Recently, a distribution customer ordered a variety of conventional pallet samples from our company. On the one hand, he confirmed the product quality and craftsmanship, and on the other hand, it can be placed in the sample room to facilitate the viewing and understanding of end customers.
Steel pallet shape, fork entry direction, surface treatment, size, loading capacity, color, etc. All can be customized. Usually, the size of the conventional steel pallets on the racking is 1200*1200, 1200*1000, and the size of the conventional pallets used for grain storage is 1830*1830. The biggest feature of our products is that they can be customized and the production cycle is relatively fast.
If you are interested in our pallet products, can kindly contact us, we can provide you with one-stop service, convenient for you to use or distribute.
---
Post time: Apr-18-2023