As a factory, we not only can produce racking, but also can provide some related logistics supporting products, such as steel wire storage cages. The structure is similar with the steel pallet box, both of them seems like a box, of course, there is something different, we will regarding clients' storage requirements recommend suitable products.
Steel wire cages is mainly consists of wire mesh by four sides and bottom. The bottom often welded with four feets to reach the function of stacking. Regularly, it can be stack 3-5 levels by themshelves. And in other case, it also can be used together with the pallet racking system, bottom will weld two legs instead of four feets, then it can be put on the beam directly, just like steel pallet. Whatsmore,if clients don't have the forklift, we can weld ears on the upper of four corners, then the cages can be lifting by hanging tools.
The size and weight capacity of the storage cages can be customized. According to different load requirements, we will help customers design the solution, then select suitable material, mesh, and thickness of wire diameter. Galvanized surface treament are often adopted for the steel cages.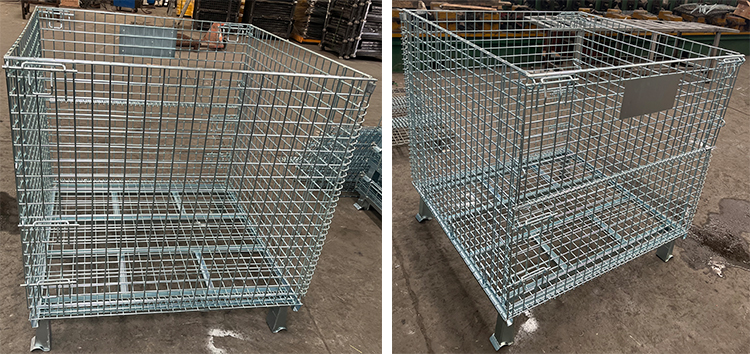 In order to facilitate loading and transportation, storage cages are usually made in a foldable mode, which can save transportation costs and save warehouse space. It is very convenient to use, and don't need to install.The front side of the storage cage is usually in the form of a half-open door, which is convenient for customers to pick up and put on the goods.
Recently, a customer from Hangzhou, China ordered some steel storage cages from our factory. The size is slightly larger than the conventional one, and weight capacity were 1000KG per pcs. We designed the products for the client according to their storage requirements.
If any interest for our products, pls email us at contact@lyracks.com
---
Post time: Apr-19-2022