Recently, our factory design a new type of stacking rack, which is used to store battery bags for new energy cars. The rack size can be customized, and it can stack many levels.
One of our clients order this type of stacking rack from our factory.  The rack size is 1160*1280mm.And base of the rack is welded by common rectangular tubes, upper installed the black rubber blocks to prevent the battery from sliding and shaking and it can protect the battery well. The two sides of the shelf are designed with round lifting rings. Then it not only can take up by forklift, but also can transport by hanging machines,which is convenient for customers to use. The stacking head is a bit curved and made of very thick material, which is convenient for stack, the whole structure will be more stable and not easy to shake.

Before mass production, we do the sample first,and put the battery bag on the rack for experiments, Finally we find that the specifications, sizes and shapes are particularly suitable.
The whole production has been completed by last week. The customer came to see the product on site. And they are very satisfied with our designing and rack quality. They want to cooperate with our factory for this product for a long time. Since then, the stacking rack has successfully unlocked a new industry.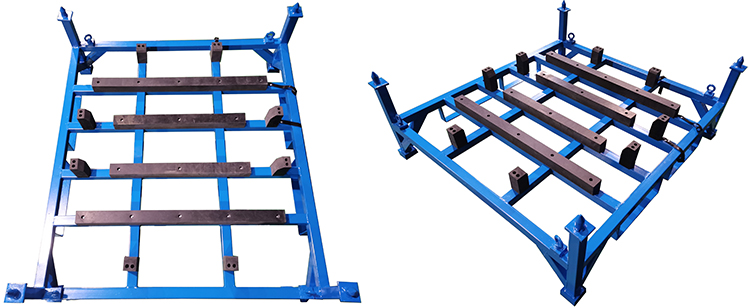 In the future, we will work hard to develop more new types of stacking racks to meet the storage of goods in many other industries.
We not only can produce regular stacking racks, but also can design the racks according to the customers storage requirement. Sometimes they need to add side frames, or add wire mesh and steel plate on bottom, or do the folding type.If you are interested in stacking racks or other racks, please contact us at contact@lyrack.com
---
Post time: Dec-22-2021