Steel pallets are our popular and professional products, suitable for all walks of life. Common steel pallet sizes are 1200*1000, or 1100*1100, or 1000*1000mm, etc. They can be used alone,or in conjunction with racking system. Of course, we can also design and produce special non-standard steel pallets.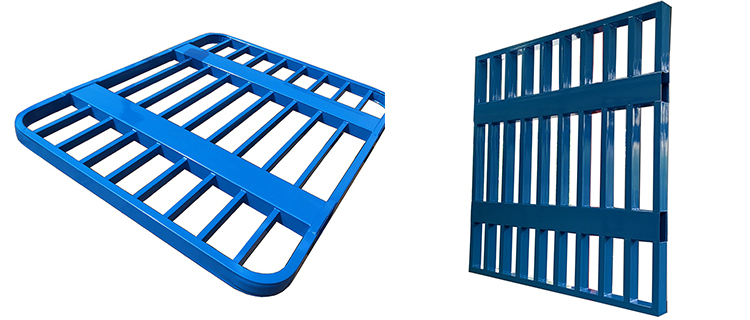 In recent years, there is also a very popular steel pallet, a large steel pallet with right angles or rounded corners. The size can be 1830*1830mm or even more bigger. Of course, the size and loading capacity can be customized according to customer storage needs. This type of steel pallets are usually used for feed or grain storage. It does not need to be put on the racking system and can be used in stacks.
The advantage is that it is convenient for forklift and transfer, and does not require special aisle, which can greatly improve the efficiency of the warehouse. Compared with ordinary steel pallets, the cost will be slightly more expensive, but if combined for racking system, it saves costs greatly. It is very simple and convenient to use. No installation is required. It can be used directly after being transported to the site. It is usually used with a forklift, so we designed special fork holes on the pallet.
This kind of steel pallet is very popular in China and abroad. If the customer's demand is relatively large, we will also provide a better price for them. Ordinary steel pallets can be treated with powder coating or cold dip galvanizing or hot dip galvanizing. For such relatively large steel pallets, the most common treatment method is powder coating. The color can be customized. Of course, galvanized ones are also available, which can be customized according to the customer's requirements.
Any requirement for such type of steel pallets, kindly email us at contact@lyracks.com
---
Post time: Oct-09-2023