Teardrop pallet rack is a type of heavy duty racking which is widely used in North American market, especially in the United States and Canada. The teardrop hole upright frame often connects with P shape beams, and is equipped with galvanized or powder coated wire decking on the beams to protect goods from falling down from pallets. Also, user can put products on  wire decking directly without pallets.We can provide various solutions for client to select according to their different storage needs.
As a professional racking manufacturer, we can produce teardrop hole shelves.And all of the racking specification, levels, loading capacity can be customized.
This month, our factory got an order for teardrop racking shelves from an American customer. The height is 6000mm, the length is 2440mm, and the width is 1220mm. Loading capacity is 2000kg per level. It is one of normal American standard shelf size, and beam is painted in yellow. For this specification, our clients requested for 6*40HC. And it is expected to start shipping next week.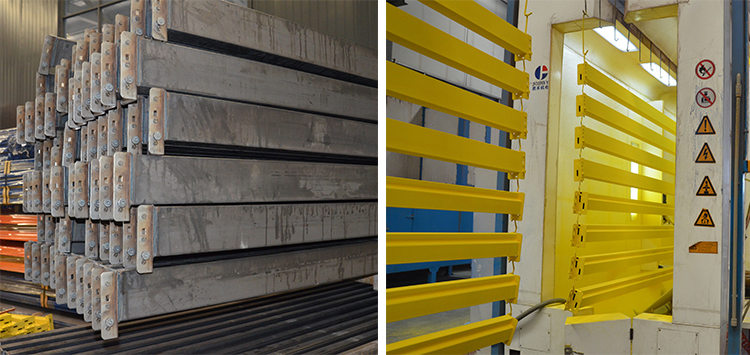 For teardrop racking shelves, the production time is short, it often takes around 20days, even for big order. Because we have automatic welding machine to weld beam claws which will improve our production efficiency.And welding quality can be guaranteed.Compared with manual welding, the advantages of machine welding are: fast speed, firm and precise welding, less welding slag, and smooth surface.
The advantages of the teardrop racking are:simple structure,easy for installation, strong loading capacity,and very convenient for using. and if customer changes warehouse, the old warehouse racking can be moved to new warehouse, very easy for operation.And it makes full use of the height of the warehouse, widely used in the storage of various products.
As a factory, Liyuan strives to improve product quality, any interest for the racking, pls email us at contact@lyracks.com
---
Post time: Oct-27-2021