This type of light duty shelf is called Slotted Angle Steel Shelf Rack. It is made of uprights, shelves, triangle corner plate, bolts and nuts. The surface treatment is cold galvanizing. This type is very popular in South Africa market.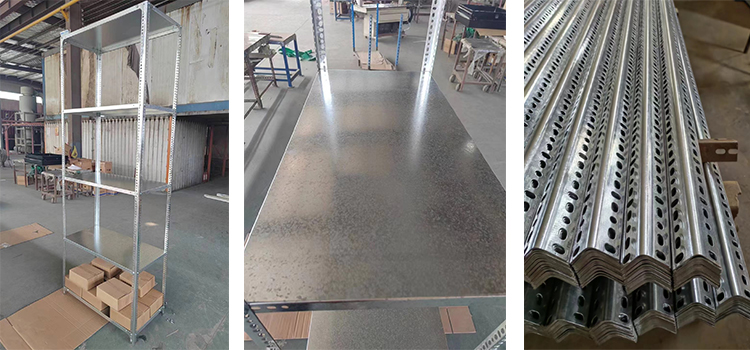 The upright is made from Q235 cold-rolled steel. Steel plate firstly will be cut into long and narrow piece of strip, then the steel strip will go through punch machine to cut holes out of steel strip. The last step is fold the strip to make the right angle, then they will be packed every 10 pieces.
The steel shelf will be firstly cut in specific shape and then the four sides will be folded at last. The popular sizes are 914x305mm, 914x381mm, 914x457mm. The thickness can be 0.8-1.2 according to the loading capacity. By testing, 0.8mm-thick steel shelf can take 150 kg loading. The shelves will be packed in carton every 10 pieces. In the shelf, we can also print or engrave logo of customers.
The surface treatment is cold galvanizing which is applied usually in moist environment, such as foreland and cold warehouse. We can also do hot galvanizing and powder coating.
Besides this type, we can also do boltless rivet light duty shelf rack which is also very popular in the world wide. Because it doesn't need bolts and nuts to connect uprights and shelves, it is very convenient to install it.
The steel shelves and the angle steel uprights are connected by bolts and nuts. But for the top shelf and the bottom shelf, there will be four corner plates for each shelf to strengthen the whole structure. Also each shelf can be strengthened in the racks to make racks stronger, but it is unnecessary. On the carton for shelves, we can print logo of client. Any requirement, pls let us know.
---
Post time: Nov-07-2023