Recently, our company's technical department designed a foldable and stackable steel pallet box for a customer in the auto parts industry, which is suitable for the storage of auto parts. The entire structure can be stacked on several levels, making full use of the warehouse space. And it is very easy and flexible to use. The bottom and sides are made of steel plates. Compared with the storage cage, which is made of mesh and has holes all around, some small parts are less likely to fall and be lost, making it more convenient. It can be folded when not in use or transported, which does not take up space and can save transportation costs to a certain extent.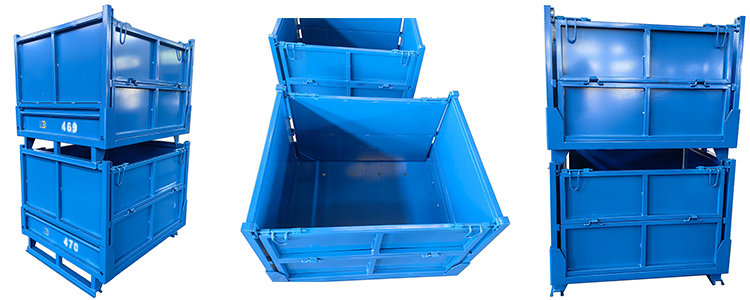 Another advantage of this folding steel pallet box is that it has a half-open door in the middle and is connected with a latch, making it convenient to put and pick up goods. The size of the steel pallet box is 1.2 meters long, 1 meter wide and 0.8 meters high. The overall color is blue. It is very beautiful and conspicuous after the finish of powder coating. Of course, the size and load capacity of the steel pallet box can be customized, and the corresponding materials can be selected according to different storage requirements.
Before mass production, we first produced 3 sets for load-bearing stacking experiments. It can be stacked in three layers, each layer carrying 1 ton. The experimental results showed that it could be implemented, and then mass production was carried out. The customer was very satisfied with the product we designed. This product can not only be used to store products, but can also be used to transport products. It does not require installation and can be used directly after purchase. It is very simple and is usually used in conjunction with a forklift.
---
Post time: Oct-03-2023