Cantilever racks are widely used in pipe industry, for example for iron pipes, plastic pipes or aluminum pipes.Usually the pipes are relatively long, and common racks can not meet the storage requirements. In this suitation, clients will select cantilever racking, it is very convenient for storage and operation. Generally, the arm will be slightly tilted up to prevent the pipe from falling down. We can also add a stopper at the end of the arm, the effect will be better.
Cantilever racking is mainly consist of bases,posts and arms. There are two types of cantilever racking,heavy duty one and light duty one. For heavy loading type, each level can load around 5T, and all of the material will be H shape steel.It can be used to store raw materials. Last year, one of our customer in Chile bought heavy duty cantilever racks to store stainless steel panels and pipes. And for the Light duty type,it often load around 200-300kg per level.
Last month, one of our customer from Canada order cantilever racking to store long wooden boxes. Rack height 4.5m, base + 4 levels arms, total 5 levels.Each arm can load 450KG.The installation of the cantilever rack is very simple,no need to use special tools. They installed by themshelves according to the solution drawing. After finishing installation,they took some pictures and sent them to us,and they are very pleased for our rack quality, hope we can have another cooperation chance in future.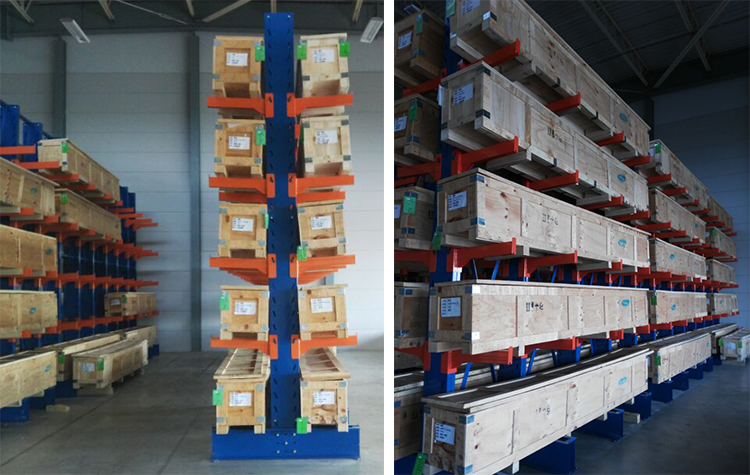 Cantilever racks can make full use of warehouse space and increase utilization rate of the warehouse. And all of the specification and size of the rack can be customized, we can regarding the clients storage requirement, design suitable solutions.Quality is our culture, any interest in the racking, pls contact us at contact@lyracks.com
---
Post time: Nov-01-2021