Steel pallet tainer is a hot selling product in our company. The weight capacity is very good due to its welded structure. The only disadvantage is that it takes up space during the transportation, so customers often choose the detachable stacking racks, but some clients still select steel pallet tainer, due to its strong weight capacity and stability.
Recently, a customer from Singapore ordered fixed stacking rack from us. In fact, at beginning,we recommended them detachable stacking rack due to the transportation cost. But they insisted to use steel pallet tainer, and we design a proper solution for them, they were very satisfied for our solutions.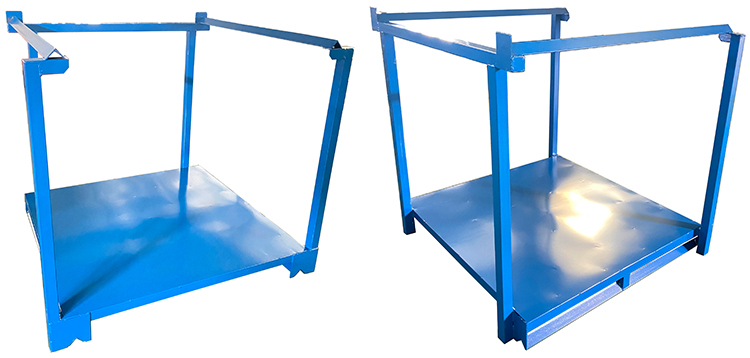 Steel pallet tainer bottom is similar with the steel pallet, and it can be equipped with wire mesh or the steel plate according to the clients' different storage needs. Usually, it used to store pallet with goods or the products can be put on it directly. Because the whole structure is welded, so no need to install and very easy to use. Powder coating surface treatment and the color can be customized, of course, galvanized surface dealing are also okay.
As we all know, detachable stacking rack is usually welded with stacking foot and stacking bowls on four columns to realize the stacking function. Different from it, the bottom base of steel pallet tainer is usually made of angle steel, and the beam at the top is also made of angle steel, in this suitation, the base can be stuck on the beam.So the whole stacking effect is very stable, and not shaking.
The emergence of steel pallet tainer greatly satisfies the different storage needs of customers. Like other racking systems, its size and weight capacity also can be customized. Our technical team can design a proper solution for you. Any interest, pls email us at contact@lyracks.com
---
Post time: Apr-28-2022